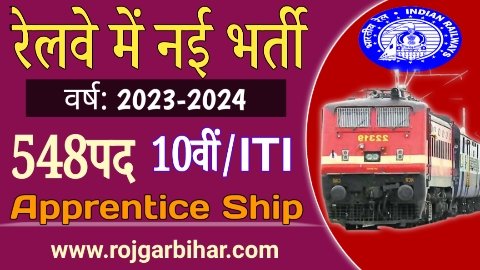 Railway New Vacancy 2023 : South East Central Railway (SECR) periodically invites applications for apprenticeship training in various trades under the Apprentices Act, 1961. The recruitment process involves an online application, Those Candidates Who Are Intrested In This vacancy Details & Completed All Eligibility Criteria Can Read The Full Notification Before Apply Online.
RRC Bilaspur Apprentice Recruitment 2023-23,

SECR Apprentice Online Apply 2023-2024 Batch,

Railway Apprenticeship New Vacancy 2023,

Post Name

SEC Railway Apprentice 2023

Total Post

548

Post Date

08/05/2023

Job Type

1 Year Apprenticeship

Salary

As per GOVT Rules

Apply mode

Online
Railway Apprentice Online Date

Apply Online Start

03/05/2023

Online Last date

03/06/2023

Exam Date

No Exam
Railway Apprentice

Application Fee

GEN/EWS/OBC (Male)

No Fee

GEN/EWS/OBC (Female)

No Fee

SC/ST/PH (Male & Female)

No Fee
SEC

Railway Apprentice

Age Limit

Community
Born Between 

GEN/EWS

01/07/1999 to 01/07/2008

SC

01/07/1994 to 01/07/2008




ST

OBC

01/07/1996 to 01/07/2008

PWD/Ex-servicemen

01/07/1989 to 01/07/2008
अभ्यर्थी की आयु दिनाक 01.07.2023 को 15 वर्ष से कम तथा 24 वर्ष से ज्यादा नही होना चाहिए। अधिकतम आयु सीमा में SC/ST के उम्मीदवारों को 5 वर्ष एवं OBC के उम्मीदवारों को 3 वर्ष, दिव्यांग एवं भूतपूर्व सैनिक के उम्मीदवारों को 10 वर्ष की छूट होगी ।
SEC Railway Vavancy Details

Trade
Seat
CARPENTER
25
COPA
100
DRAFTSMAN (CIVIL)
06
ELECTRICIAN
105
ELECTRONIC (MECH)
06
FITTER
135
MACHINIST
05
PAINTER
25
PLUMBER
25
MECHANIC (Refrigeration & Air Conditioning)
00
SHEET METAL WORK
04
STENO (ENG)
25
STENO (HINDI)
20
TURNER
08
WELDER
40
WIREMAN
15
GAS CUTTER
00
DIGITAL PHOTOGRAPHER
04
Total

548
SECR Apprentice 2023 Qualification
अभ्यर्थी को 10+2 शिक्षा पद्धति के तहत 10 वी (मैट्रिक) या इसके समकक्ष परीक्षा उत्तीर्ण होना चाहिए।
अभ्यर्थी को किसी भी मान्यता प्राप्त संस्था से संबन्धित ट्रेड में आई. टी. आई. की परीक्षा उत्तीर्ण होना चाहिए।
Apprentice Duration & Stipend
The period of apprenticeship and stipend:- Selected candidates will be engaged as apprentices and they will undergo apprenticeship training for a period of 1year for each trade. They will be paid stipend during their training as per the rules of State Government of Chhattisgarh. Their training will be terminated after the completion of their apprenticeship.
Apprentice Selection Process
चयन प्रक्रिया :- Merit List सूची बनाने हेतु निम्नलिखित मापदंड अपनाया जाएगा, अभ्यर्थी द्वारा मैट्रिक (न्यूनतम 50% अंक अहर्ता हेतु आवश्यक होगा ) तथा आई.टी.आई. में प्राप्त अंक प्रतिशत को समान भारता देते हुये Merit List जारी की जाएगी। अभ्यर्थी आवेदन करते समय अपने 10वी और आईटीआई (ITI) के अंक को पोर्टल पर योग्यता सेक्शन मे निश्चित रूप से भरे अन्यथा आपके आवेदन पर विचार नहीं किया जाएग तथा आपका आवेदन निरस्त हो जाएगा।
Intrested Candidate for More Details Please Download Official Notification And Read All Details Before Apply Online.